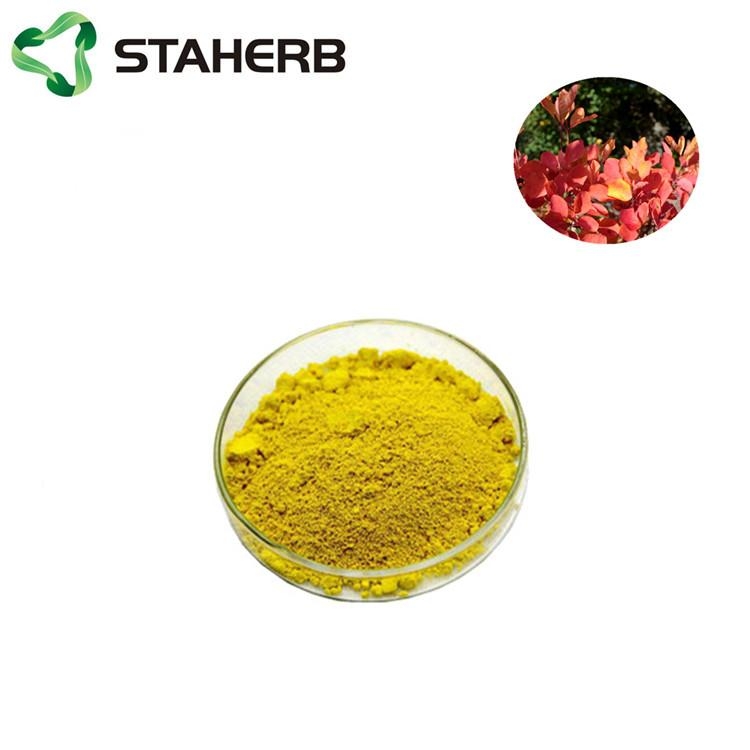 Smoke tree extract Fisetin
Product Name: Smoke tree extract
Form: Powder
Appearance : Yellow Fine Powder
Part Used : Leaf
Active ingredient: Fisetin
Cas No.:528-48-3
Specification: 10%,20%,50%,98%
Test Method : HPLC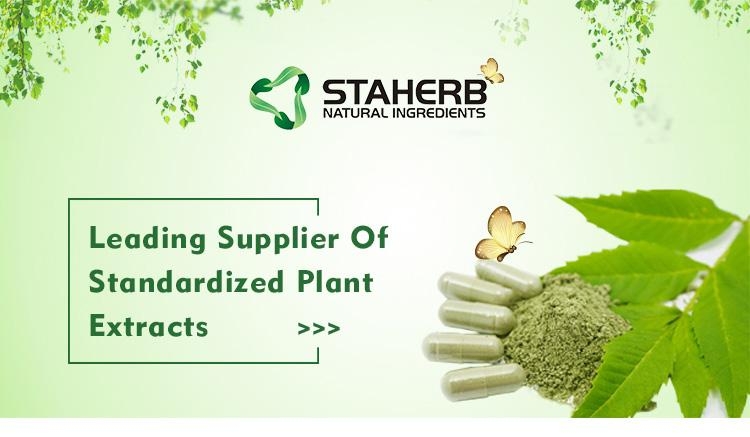 About fisetin:
Smoke Tree Extract Fisetin is a flavonol, a structurally distinct chemical substance that belongs to the flavonoid group of polyphenols. It can be found in many plants, where it serves as a colouring agent. Its chemical formula was first described by Austrian chemist Josef Herzig in 1891. Fisetin can be found in various plants such as Acacia greggii, Acacia berlandieri,in the yellow dye young fustic from Rhus cotinus (Eurasian smoketree), in Butea frondosa (parrot tree), Gleditschia triacanthos, Quebracho colorado and the genus Rhus and in Callitropsis nootkatensis (yellow cypresses). It is also reported in mangoes.
Staherb Fisetin main function:
1. Fisetin can be used to cure rheumatism, dysentery, gastrological, hernia, abdominal distension, toothache, traumatic injures, and skin ulcer in clinical.
2. Fisetin can anti-inflammatory.
3. Fisetin can antiproliferative.
4. Fisetin can indications Rheumatoid arthritis, diarrhea, stomach pain, hernia pain,
abdominal distention, pain, bruises, swelling, sores, carbuncles.
5. Fisetin can dispeling wind and dehumidify.
Staherb Fisetin Application:
1. Applied in food field, Fisetin powder is a kind of nourishing food which has much benefits to brain;
2. Applied in pharmaceutical field, Fisetin powder can be used to treat coronary heart disease and has better effect;
3. Applied in cosmetic field, Fisetin powder owns the function of whitening, dispelling spot, anti-wrinkle, and activating skin cells.
For more prouct information pls contact email sales09@staherb.cn
Physical index:
analysis

Specification

Result

Test method

Physical Description

Appearance

Yellow powder

Complies

Visual

Odor

Characteristic

Characteristic

Organoleptic

Sieve Analysis

100% pass 80 mesh

Complies

80 mesh

Chemical Tests

Assay ( Fisetin )

98.0% Min

98.26%

HPLC

Loss on drying

5.0% Max

2.33%

5g/105℃/2hrs

Bulk Density

45-60g/100mL

Complies

/

Microbiology Control

Total plate count

1,000cfu/g Max

Complies

AOAC

Yeast & Mold

100cfu/g Max

Complies

AOAC

E. Coli

Negative

Negative

AOAC

Salmonella

Negative

Negative

AOAC

Conclusion

Complies with the standards.

General Status

Non-GMO, Non-irradiation, ISO & Kosher Certificated.

Packing and Storage

Packing: Pack in paper-carton and two plastic-bags inside.

Shelf life: 2 year when properly stored.

Storage: Store in a well-closed place with constant low temperature and no direct sun light.
Determination of Fisetin
Determination of Fisetin in Smoke Tree P.E. by HPLC
HPLC Conditions:
Column: Inertsil ODS-3 4.6×150mm 5μm
Flow rate: 1.0 mL/min
Detection wavelength: 368 nm
Mobile phase: Acetomitrile: water: phosphoric acid (23:77: 0.1, V/V)
Sensitivity: 0.01AUFS
Column Temperature: 25 ℃
Injection Volume: 10μl
Solution Preparation
1. Standard Preparation:
Accurately weigh approximately 3mg of Fisetin Standard into a 25ml volumetric flask. Dilute to volume with methanol.
2. Sample Preparation:
Accurately weigh approximately 10mg of Smoke Tree P.E. and transfer into a 50ml volumetric flask. Add a 30ml methanol and sonicate for 30min. After cool at room temperature and dilute to volume with methanol. Filter through a 0.45μm filter into an HPLC vial or centrifuge to obtain a clear test solution.
III. Calculation
Under the above chromatographic conditions, when the instrument is stable, and the sample was measured at baseline.
The retention time of Fisetin is about 20 min. The final results are quantified against external standard.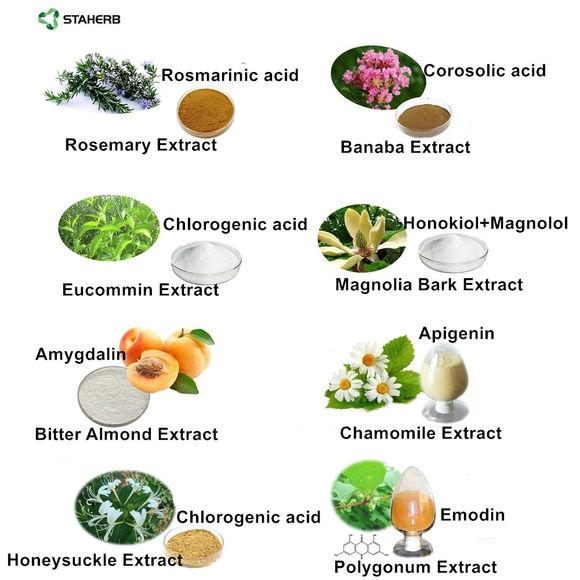 References
1.

Siegel RL, Miller KD, Jemal A. Cancer statistics, 2017. CA Cancer J Clin. 2017;67:7–30.

2.

Li W, Cai JH, Zhang J, Tang YX, Wan L. Effects of cyclooxygenase inhibitors in combination with taxol on expression of cyclin D1 and Ki-67 in a xenograft model of ovarian carcinoma. Int J Mol Sci. 2012;13:9741–53.

3.

Tripathi R, Samadder T, Gupta S, Surolia A, Shaha C. Anticancer activity of a combination of cisplatin and fisetin in embryonal carcinoma cells and xenograft tumors. Mol Cancer Ther. 2011;10:255–68.

4.

Suh Y, Afaq F, Johnson JJ, Mukhtar H. A plant flavonoid fisetin induces apoptosis in colon cancer cells by inhibition of COX2 and Wnt/EGFR/NF-kappaB-signaling pathways. Carcinogenesis. 2009;30:300–7.

5.

Li Z, Guo X, Guan J. An oxygen release system to augment cardiac progenitor cell survival and differentiation under hypoxic condition. Biomaterials. 2012;33:5914–23.

6.

Chen WS, Lee YJ, Yu YC, Hsaio CH, Yen JH, Yu SH, Tsai YJ, Chiu SJ. Enhancement of p53-mutant human colorectal cancer cells radiosensitivity by flavonoid fisetin. Int J Radiat Oncol Biol Phys. 2010;77:1527–35.

7.

Ying TH, Yang SF, Tsai SJ, Hsieh SC, Huang YC, Bau DT, Hsieh YH. Fisetin induces apoptosis in human cervical cancer HeLa cells through ERK1/2-mediated activation of caspase-8−/caspase-3-dependent pathway. Arch Toxicol. 2012;86:263–73.

8.

Hanneken A, Lin FF, Johnson J, Maher P. Flavonoids protect human retinal pigment epithelial cells from oxidative-stress-induced death. Invest Ophthalmol Vis Sci. 2006;47:3164–77.

9.

Crozier A, Burns J, Aziz AA, Stewart AJ, Rabiasz HS, Jenkins GI, Edwards CA, Lean ME. Antioxidant flavonols from fruits, vegetables and beverages: measurements and bioavailability. Biol Res. 2000;33:79–88.

10.

Higa S, Hirano T, Kotani M, Matsumoto M, Fujita A, Suemura M, Kawase I, Tanaka T. Fisetin, a flavonol, inhibits TH2-type cytokine production by activated human basophils. J Allergy Clin Immunol. 2003;111:1299–306.

11.

Chen YC, Shen SC, Lee WR, Lin HY, Ko CH, Shih CM, Yang LL. Wogonin and fisetin induction of apoptosis through activation of caspase 3 cascade and alternative expression of p21 protein in hepatocellular carcinoma cells SK-HEP-1. Arch Toxicol. 2002;76:351–9.

12.

Haddad AQ, Venkateswaran V, Viswanathan L, Teahan SJ, Fleshner NE, Klotz LH. Novel antiproliferative flavonoids induce cell cycle arrest in human prostate cancer cell lines. Prostate Cancer Prostatic Dis. 2006;9:68–76.

13.

Haddad AQ, Fleshner N, Nelson C, Saour B, Musquera M, Venkateswaran V, Klotz L. Antiproliferative mechanisms of the flavonoids 2,2′-dihydroxychalcone and fisetin in human prostate cancer cells. Nutr Cancer. 2010;62:668–81.

14.

Chien CS, Shen KH, Huang JS, Ko SC, Shih YW. Antimetastatic potential of fisetin involves inactivation of the PI3K/Akt and JNK signaling pathways with downregulation of MMP-2/9 expressions in prostate cancer PC-3 cells. Mol Cell Biochem. 2010;333:169–80.

15.

Suh Y, Afaq F, Khan N, Johnson JJ, Khusro FH, Mukhtar H. Fisetin induces autophagic cell death through suppression of mTOR signaling pathway in prostate cancer cells. Carcinogenesis. 2010;31:1424–33.

16.

Touil YS, Auzeil N, Boulinguez F, Saighi H, Regazzetti A, Scherman D, Chabot GG. Fisetin disposition and metabolism in mice: identification of geraldol as an active metabolite. Biochem Pharmacol. 2011;82:1731–9.

17.

Ansó E, Zuazo A, Irigoyen M, Urdaci MC, Rouzaut A, Martínez-Irujo JJ. Flavonoids inhibit hypoxia-induced vascular endothelial growth factor expression by a HIF-1 independent mechanism. Biochem Pharmacol. 2010;79:1600–9.

18.

Wu MY, Hung SK, Fu SL. Immunosuppressive effects of fisetin in ovalbumin-induced asthma through inhibition of NF-κB activity. J Agric Food Chem. 2011;59:10496–504.

19.

Kim JY, Jeon YK, Jeon W, Nam MJ. Fisetin induces apoptosis in Huh-7 cells via downregulation of BIRC8 and Bcl2L2. Food Chem Toxicol. 2010;48:2259–64.

20.

Chen Y, Wu Q, Song L, He T, Li Y, Li L, Su W, Liu L, Qian Z, Gong C. Polymeric micelles encapsulating fisetin improve the therapeutic effect in colon cancer. ACS Appl Mater Interfaces. 2015;7:534–42.

21.

Chen G, Gao C, Gao X, Zhang DH, Kuan SF, Burns TF, Hu J. Wnt/β-catenin pathway activation mediates adaptive resistance to BRAF inhibition in colorectal cancer. Mol Cancer Ther. 2017.

22.

Hopkins TG, Mura M, Al-Ashtal HA, Lahr RM, Abd-Latip N, Sweeney K, Lu H, Weir J, El-Bahrawy M, Steel JH, Ghaem-Maghami S, Aboagye EO. The RNA-binding protein LARP1 is a post-transcriptional regulator of survival and tumorigenesis in ovarian cancer. Nucleic Acids Res. 2016 Feb;18:1227–46.

23.

Echarri GMJ, Green R, Muggia FM. Intraperitoneal drug delivery for ovarian cancer: why, how, who, what, and when. Oncology (Williston Park). 2011;25:156–65. 170

24.

Li QQ, Lee RX, Liang H, Zhong Y, Reed E. Enhancement of cisplatin-induced apoptosis by β-elemene in resistant human ovarian cancer cells. Med Oncol. 2013;30:424.

25.

McGuire WP, Hoskins WJ, Brady MF, Kucera PR, Partridge EE, Look KY, Clarke-Pearson DL, Davidson M. Cyclophosphamide and cisplatin compared with paclitaxel and cisplatin in patients with stage III and stage IV ovarian cancer. N Engl J Med. 1996;334:1–6.

26.

Khan N, Asim M, Afaq F, Abu ZM, Mukhtar H. A novel dietary flavonoid fisetin inhibits androgen receptor signaling and tumor growth in athymic nude mice. Cancer Res. 2008;68:8555–63.

27.

Kozics K, Valovicova Z, Slamenova D. Structure of flavonoids influences the degree inhibition of benzo(a)pyrene - induced DNA damage and micronuclei in HepG2 cells. Neoplasma. 2011;58:516–24.

28.

Katalinić M, Rusak G, Domaćinović BJ, Sinko G, Jelić D, Antolović R, Kovarik Z. Structural aspects of flavonoids as inhibitors of human butyrylcholinesterase. Eur J Med Chem. 2010;45:186–92.

29.

López-Lázaro M, Willmore E, Austin CA. The dietary flavonoids myricetin and fisetin act as dual inhibitors of DNA topoisomerases I and II in cells. Mutat Res. 2010;696:41–7.

30.

Li J, Cheng Y, Qu W, Sun Y, Wang Z, Wang H, Tian B. Fisetin, a dietary flavonoid, induces cell cycle arrest and apoptosis through activation of p53 and inhibition of NF-kappa B pathways in bladder cancer cells. Basic Clin Pharmacol Toxicol. 2011;108:84–93.

31.

Khan N, Afaq F, Khusro FH, Mustafa AV, Suh Y, Mukhtar H. Dual inhibition of phosphatidylinositol 3-kinase/Akt and mammalian target of rapamycin signaling in human nonsmall cell lung cancer cells by a dietary flavonoid fisetin. Int J Cancer. 2012;130:1695–705.