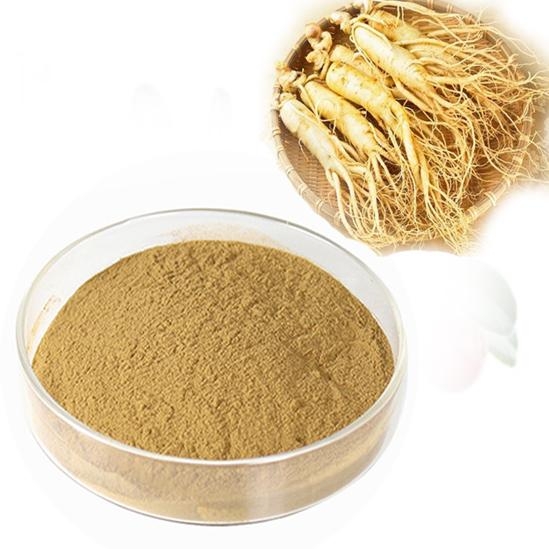 ginseng extract
Item name:Ginseng extract
Appearance:Brown Yellow Powder
Active Ingredient:Ginsenosides
Application:Foods Supplyment/Beverages/Health care products/Cosmetics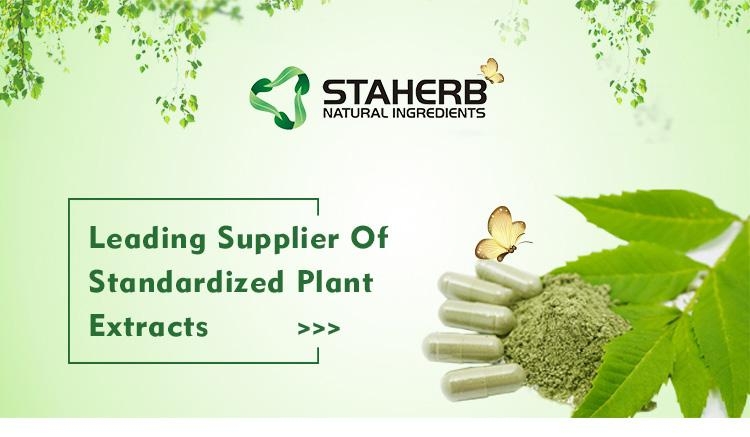 About Ginseng
As is known to all, ginseng is the "king of herbs" and "the first of the three treasures of traditional Chinese medicine". Ginseng has been used in China for at least 4,000 years. The four classics of Chinese medicine, "Compendium of Materia Medica", "Treatise on Febrile Diseases" and "Difficulties", The "Warm Diseases" has recorded the medicinal value of ginseng, which is enough to witness the status of ginseng in China.
Ginsenosides are extracted from the stems and leaves of the ginseng of the Araliaceae plant, which is rich in 18 kinds of ginseng monomer saponins.
Ginseng Main efficacy ingredients:
Ginsenoside is a sterol compound, triterpenoid saponin. It mainly exists in the medicinal materials of ginseng. Ginsenoside is considered to be the active ingredient in ginseng. The main functional ingredients are as follows:
Rg1: It can quickly restore fatigue, improve learning and memory, delay aging, stimulate central nervous system and inhibit platelet aggregation.
Re: inhibits the central nervous system and promotes DNA and RNA synthesis.
Rb1: Protects vascular endothelial cells, and anti-aging improves memory.
Rc: anti-fatigue and diastolic macrovascular effects, similar to Rg1.
Rb2: acts on the G2 phase of the cell reproductive cycle, inhibits the synthesis of pre-mitotic proteins and ATP in cancer cells, slows the proliferation of cancer cells, inhibits cancer cell infiltration, inhibits tumor cell metastasis, and promotes tumor cell apoptosis. And inhibit the growth of tumor cells.
Rb3: Improves neurological deficits, reduces infarct size in the brain, and relieves brain edema.
Rd: Enhances the body's non-specific resistance to noxious stimuli.
Ginseng extract Application:
1) Health products:
Anti-aging and brain health products
2) Drugs: Ginsenosides can be made into injections, pills, and the like.
3) It is used in food additives and has the functions of anti-fatigue, anti-aging, nourishing and nourishing the brain;
4) Applied in the field of cosmetics, it has the functions of whitening, freckle, anti-wrinkle and activating skin. The cells make the skin softer and firmer.
For more product information pls contact email sales09@staherb.cn
Product information:
Basic Information

Product Name

Ginseng Extract

Used Part

Steam and Leaves

Appearance

Light yellow Powder

Odor&Taste

Characteristic

Test Method

UV

Specification

Total Ginsengsides UV80%

Active Ingredient

Rg1,Re,Rb1,Rc,Rb2,Rb3,Rd

Physical Characteristics

Sieve Analysis

NLT 95% pass 80 mesh

Loss on Drying

≤5.0%

Ash Content

≤5.0%

Residual Solvents

Total Heavy Metals

≤20ppm

Pesticide Residues

E.P8.0

Microbiological Assay

Total Plate Count

1000cfu/g

Total Yeast & Mold

100cfu/g

E.Coli

Negative

Salmonella

Negative

Staphylococcus

Negative
References:
1.

Kim HY, Hwang IG, Kim TM, Kim DJ, Park DS, Kim JH, Lee J, Jeong HS. Antiproliferation effects of ethanol and water extracts from germinated rough rice. J. Korean Soc. Food Sci. Nutr. 39: 1107–1112 (2010)

2.

Deepa M, Sureshkumar, T, Satheeshkumar, PK, Priya S. Purified mulberry leaf lectin (MLL) induces apoptosis and cell cycle arrest in human breast cancer and colon cancer cells. Chem. Biol. Interact. 200: 38–44 (2012)

3.

Bae MJ, Ye EJ. Antioxidant activity and in vitro for anticancer effects of manufactured fermented mulberry leaf tea. J. Korean Soc. Food Sci. Nutr. 39: 796–804 (2010)

4.

Seo HR, Kim JY, Bae GH, Park KY. Antiproliferative effect of Bacillus subtilis fermented soymilk in AGS human gastric adenocarcinoma cells. J. Korean Soc. Food Sci. Nutr. 38: 644–648 (2009)

5.

Kim YE, Yang JW, Lee CH, Kwon EK. ABTS radical scavenging and anti-tumor effects of Tricholoma matsutake Sing. (Pine Mushroom). J. Korean Soc. Food Sci. Nutr. 38: 555–560 (2009)

6.

Jung NP, Song SO, Choi SU. Cytotoxicity of white and red ginseng against cancer cells and their effects on the cell cycle. J. Ginseng Res. 24: 183–187 (2000)

7.

Chen X. Liu H, Lei X, Fu Z, Li Y, Tao L, Han R. Cancer chemopreventive and therapeutic activities of red ginseng. J. Ethonopharmacol. 60: 71–78 (1998)

8.

Liu J, Shimizy K, Yu H, Zhang C, Jin F, Kondo R. Stereospecificity of hydroxyl group at C-20 in antiproliferative action of ginsenoside Rh2 on prostate cancer cells. Fitoterapia 81: 902–905 (2010)

9.

Park D, Bae DW, Jeon JH, Lee J, Oh N, Yang G, Yang YH, Kim TK, Song J, Lee SH, Song BS, Jeon TH, Kang SJ, Joo SS, Kim SU. Immunopotentiation and antitumor effects of a ginsenoside Rg3-fortified red ginseng preparation in mice bearing H460 lung cancer cells. Environ. Toxicol. Pharm. 31: 397–405 (2011)

10.

Wang W, Rayburn ER, Hang J, Zhao Y, Wang H, Zhang R. Anticancer effect of novel ginsenoside 25-OCH3-PPD. Lung Cancer-J. IASLC 65: 306–311 (2009)

11.

Xu LL, Han T, Wu JZ, Zhang QY, Zhang H, Huang BK, Rahman K, Qin LP. Comparative research of chemical constituents, antifungal and antitumor properties of ether extracts of Panax ginseng and its endophytic fungus. Phytomedicine 16: 609–616 (2009)

12.

Kim YJ, Kwon HC, Ko H, Park JH, Kim HY, Yoo JH, Yang HO. Anti-tumor activity of the ginsenoside Rk1 in human hepatocellular carcinoma cells through inhibition of telomerase activity and induction of apoptosis. Biol. Pharm. Bull. 31: 826–830 (2008)

13.

Park HJ, Jung DH, Joo H, Kang NS, Jang SA, Lee JG, Sohn EH. The comparative study of anti-allergic and anti-inflammatory effects by fermented red ginseng and red ginseng. Korean J. Plant Res. 23: 415–422 (2010)

14.

Park EK, Choo MK, Han MJ, Kim DH. Ginsenoside Rh1 possesses antiallergic and anti-inflammatory activities. Int. Arch. Allergy Immunol. 133: 113–120 (2004)

15.

Lim SI, Cho CW, Choi UK, Kim YC. Antioxidant activity and ginsenoside pattern of fermented white ginseng. J. Ginseng Res. 34: 168–174 (2010)

16.

Lee SH, Jung BH, Kim SY, Lee EH, Chung BC. The antistress effect of ginseng total saponin and ginsenoside Rg3 and Rb1 evaluated by brain polyamine level under immobilization stress. Pharmacol. Res. 54: 46–49 (2006)

17.

Lee KT, Jung TW, Lee HJ, Kim SG, Shin YS, Whang WK. The antidiabetic effect of ginsenoside Rb2 via activation of AMPK. Arch. Pharm. Res. 34: 1201–1208 (2011)

18.

Bao HY, Zhang J, Yeo SJ, Myung CS, Kim HM, Kim Jm, Park JH, Cho J, Kang JS. Memory enhancing and neuroprotective effects of selected ginsenosides. Arch. Pharm. Res. 3: 333–342 (2005)

19.

Jung MY, Jeon BS, Bock JY. Free, esterified, and insoluble-bound phenolic acids in white and red Korean ginsengs (Panax ginseng C.A. Meyer). Food Chem. 79: 105–111 (2002)

20.

Park HJ, Joo JH, Kang NS, Jang SA, Lee JG, Sohn EH. The comparative study of anti-allergic and anti-inflammatory effects by fermented red ginseng and red ginseng. Korean J. Plant Res. 23: 415–422 (2010)

21.

Hye K, Kim HY. Korean red ginseng stimulates insulin release from isolated rat pancreatic islets. J. Ethonopharmacol. 120: 190–195 (2008)

22.

Kim WY, Kim JM, Han SB, Lee SK, Kim ND, Park MK. Steaming of ginseng at high temperature enhances biological activity. J. Nat. Prod. 63: 1702–1704 (2000)

23.

In JG, Lee BS, Kim EJ, Park MH, Yang DC. Increase of functional saponin by acid treatment and temperature of red ginseng extract. Korean J. Plant Res. 19: 139–143 (2006)

24.

Hongwei L, Xin L, Xiaohui Q, Ying H, Dacheng H, Yu C, Ling Y. Purification and characterization of novel stable ginsenoside Rb1-hydrolyzing â-glucosidase from China white jade snail. Process Biochem. 41: 1974–1980 (2006)

25.

Wang YT, Li XW, Jin HY, Yu Y, You JY. Degradation of ginsenosides in root of Panax ginseng C. A. Mey. by high-pressure microwave-assisted extraction. Chem. J. Chin. Univ. 28: 2264–2269 (2007)

26.

Pyo YH, Lee TC, Lee YC. Enrichment of bioactive isoflavones in soymilk fermentated with β-glucosidase-producing lactic acid bacteria. Food Res. Int. 38: 551–559 (2005)

27.

Lowry OH, Rosebrough NJ, Farr AL, Randall RJ. Protein measurement with the folin-phenol reagents. J. Biol. Chem. 193: 265–275 (1951)

28.

Chang KH, Jo MN, Kim KT, Paik HD. Purification and characterization of a ginsenoside Rb(1)-Hydrolyzing betaglucosidase from Aspergillus niger KCCM 11239. Int. J. Mol. Sci. 63: 12140–12152 (2012)

29.

Ju EM, Lee SE, Hwang HJ, Kim JH. Antioxidant and anticancer activity of extract from Betula platyphylla var. japonica. Life Sci. 74: 1013–1026 (2004)