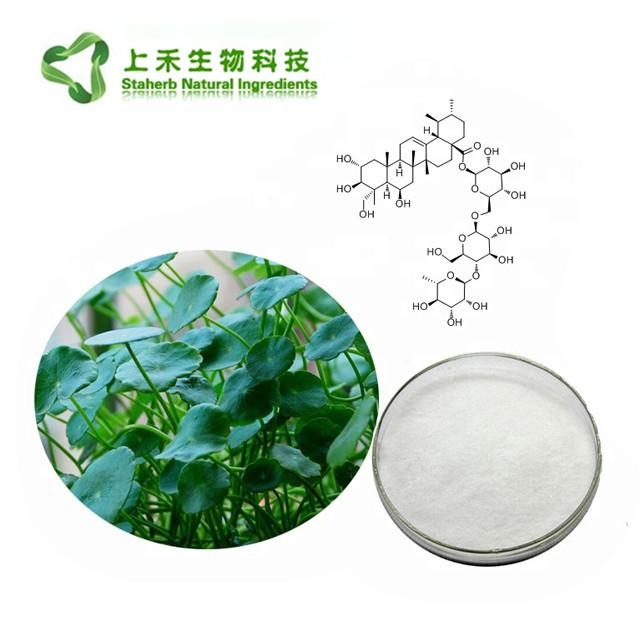 Madecassoside
Item name:madecassoside
Plant source:

Centella asiatica (L.) Urb.
Latin name:

Centella asiatica (L.) Urb.
Extract part:

Dried whole plant
Extract type:

Purified & Titrated extract
Appearance

:

White to creamy powder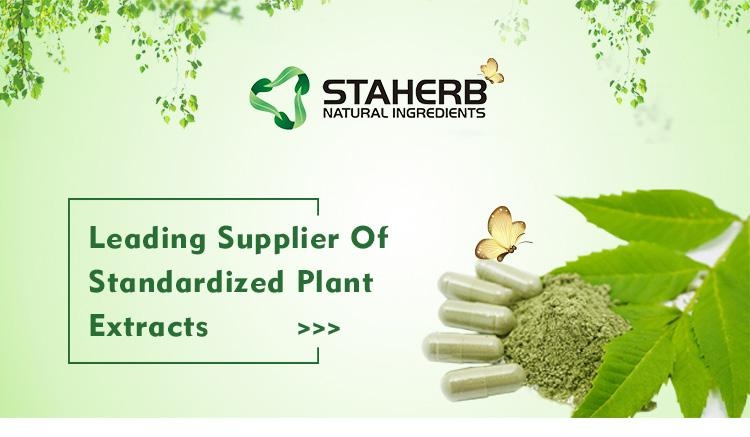 About madeccassoside:
Centella grows in tropical swampy areas.The stems are slender, creeping stolons, green to reddish-green in color, connecting plants to each other. It has long-stalked, green, rounded apices which have smooth texture with palmately netted veins. The leaves are borne on pericladial petioles, around 2 cm (0.79 in). The rootstock consists of rhizomes, growing vertically down. They are creamish in color and covered with root hairs.
Asiaticoside is a triterpene glycoside from the plant Centella asiatica, commonly used in wound healing. This activity is a result of stimulation of collagen and glycosaminoglycan synthesis. This glycoside was also found to have activity against herpes simplex virus 1 and 2 and mycobacterium tuberculosis. Neuroprotectant.
Function
1- Hearing heat and detoxicating,
2- Inducing diuresis and reducing edema.
3- Brain refreshing
4- It has the function of nourishing, diminish inflammation, heal wounds or ulcers, diuresis purge and calming.
5- Can also treat leprosy, ulcer.
6- Have wave action to blood purification and immunity.
7- A very good Nerve tonic, could improve memory, reduce mental fatigue;
8- Reduce blood press, treat liver disease.
Cosmetic Function
1.Could tightening the connection part of the epidermal and dermal, can make the skin soft, help to improve cutis laxa phenomenon, make skin smooth and willowy.
2.Help to promote the formation of collagen in the dermal layer, make fibrin regeneration, to eliminate fundamentally
the mother skin lines, make the skin to achieve the compact and smooth effect.
3.Heal damaged tissue and tight skin, prevent hygrodermia, detumescence detoxification and remove abscess.
For more product information pls contact email sales09@staherb.cn
References:
1.Al-Forkan, M., Power, J.B., Anthony, P., Lowe, K.C., Davey, M.R.: Agrobacterium-mediated transformation of Bangladeshi Indica rices.-Cell. mol. Biol. Lett. 9: 287–300, 2004.

2.Baek, Y.W.: Micropropagation of Centella asiatica (L.) Urban by In Vitro Cultures and Production of Triterpene Glycosides.-Ph.D. Thesis, Chonnan University, Gwangju 1997.

3.Balz, J.P., Courtois, D., Drieu, J., Drieu, K., Reynoird, J.P., Sohier, C., Teng, B.P., Touche, A., Petiard, V.: Production of ginkgolides and bilobalide by Ginkgo biloba plants and tissue cultures.-Planta med. 65: 620–626, 1999.

4.Banerjee, S., Zehra, M., Kumar, S.: In vitro multiplication of Centella asiatica, a medicinal herb from leaf explants.-Curr. Sci. 7: 147–148, 1999.

5.Booncong, P., Eshbaugh, W.H., Ogzewalla, C.D.: Centella asiatica (L.) (Apiaceae): Morphological and cytological characterization.-In: Nahrstedt, A. (ed.): Abstracts of Lectures and Poster Presentations in the 43rd Annual Congress on Medicinal Plant Research. Pp. 92–93. Halle 1995.

6.Cartayrade, A., Neau, E. Sohier, C., Balz, J.P., Carde, J.P., Walter, J.: Ginkgolide and bilobalide in Ginkgo biloba: 1. Sites of synthesis, translocation and accumulation of ginkgolides and bilobalide.-Plant Physiol. Biochem. 35: 859–868, 1997.

7.Collin, H.A.: Secondary product formation in plant tissue cultures.-Plant Growth Regul. 34: 119–134, 2001.

8.Curtis, I.S., Power, J.P., Blackhall, N.W., De Laat, A.M.M., Davey, M.R.: Genotype-independent transformation of lettuce using Agrobacterium tumefaciens.-J. exp. Bot. 45: 1441–1449, 1994.

9.Das, A., Mallick, R.: Correlation between genomic diversity and asiaticoside content in Centella asiatica (L.) Urban.-Bot. Bull. Acad. sin. 32: 1–8, 1991.

10.Dutta, T., Basu, U.P.: Isothankunic acid — a new triterpene acid from Centella asiatica (URB).-Bull. nat. Inst. Sci. India 37: 178–184, 1968.

11.Flück, H., Jaspersen-Schib, R.: Medicinal Plants and Their Uses.-Foulsham, New York 1976.

12.Giri, A., Narasu, M.L.: Transgenic hairy roots: recent trends and applications.-Biotechnol. Adv. 18: 1–22, 2000.

13.Granicher, F., Christen, P. Kamalaprija, P., Burger, U.: An iridoid diester from Valeriana officinalis var. sambucifolia hairy roots.-Phytochemistry 38: 103–105, 1995b.

14.Granicher, F., Christen, P., Kapetanidis, I.: Production of valepotriates by hairy root cultures of Centranthus ruber DC.-Plant Cell Rep. 14: 294–298, 1995a.

15.Gupta, A.P., Gupta, M.M., Kumar, S.: High performance thin layer chromatography of asiaticoside in Centella asiatica.-J. indian chem. Soc. 76: 321–322, 1999.

16.Inamdar, P.K., Yoele, R.D., Ghogare, A.B., De Souza, N.J.: Determination of biologically active constituents in Centella asiatica.-J. Chromatogr. A 742: 127–130, 1996.

17.Josekutty, P.C.: Callus culture and micropropagation of Hydrocotyle asiatica [Centella asiatica (L.) Urban], a medicinal plant.-Int. J. exp. Bot. 63: 275–278, 1998.

18.Kim, O.T., Kim, M.Y., Hong, M.H., Ahn, J.C., Hwang, B.: Stimulation of asiaticoside accumulation in the whole plant cultures of Centella asiatica (L.) Urban by elicitors.-Plant Cell Rep. 23: 339–344, 2004.

19.Kim, Y., Wyslouzil, B.E., Weathers, P.J.: Secondary metabolism of hairy root cultures in bioreactors.-In Vitro cell. dev. Biol. Plant 38: 1–10, 2002.

20.Mahagamasekera, M.G.P., Doran, P.M.: Intergeneric co-culture of genetically transformed organs for the production of scopolamine.-Phytochemistry 47: 17–25, 1998.

21.Massot, B., Milesi, S., Gontier, E., Bourgaud, F., Guckert, A.: Optimised culture conditions for the production of furanocoumarins by micropropagated shoots of Ruta graveolens.-Plant Cell Tissue Organ Cult. 62: 11–19, 2000.

22.Murashige, T., Skoog, F.: A revised medium for rapid growth and bioassays with tobacco tissue cultures.-Physiol. Plant. 15: 473–497, 1962.

23.Nath, S., Buragohain A.K.: Establishment of callus and cell suspension cultures of Centella asiatica.-Biol. Plant. 49: 411–414, 2005.

24.Opitz, S., Schnitzler, J.P., Hause, B., Schneider, B.: Histochemical analysis of phenylphenalenone-related compounds in Xiphidium caeruleum (Haemodoraceae).-Planta 216: 881–889, 2003.

25.Pythoud, F., Sinkar, V.P., Nester, E.W., Gordon, M.P.: Increased virulence of Agrobacterium rhizogenes conferred by the vir region of pTiBo542: Application to genetic engineering of poplar.-Bio/Technology 5: 1323–1327, 1987.

26.Rouillard-Guellec, F., Robin, J.R., Ratsimamanga, A.R., Ratsimamanga, S., Rasaoanaivo, P.: Comparative study of Centella asiatica of Madagascar origin and Indian origin.-Acta bot. gallica 144: 489–493, 1997.

27.Sambrook, J., Fritsch, E.F., Maniatis, T.: Molecular Cloning: A Laboratory Manual. 2nd Edition. Vol. 3.-Cold Spring Harbor Laboratory Press, New York 1989.

28.Samuelsson, G.: Drugs of Natural Origin, a Textbook of Pharmacognosy. Pp. 17–26. Swedish Pharmaceutical Press, Stockholm 1992.

29.Singh, B., Rastogi, R.P.: A reinvestigation of the triterpenes of Centella asiatica III.-Phytochemistry 8: 917–921, 1969.

30.Soldati, F.: Panax ginseng: standardization and biological activity.-In: Cutler, S.J., Cutler, H.G. (ed.): Biologically Active Natural Products: Pharmaceuticals. Pp. 209–232. CRC Press, Boca Raton 2000.

31.Solet, J.M., Bistermiel, F., Galons, H., Spagnoli, R., Guignard, J.L., Cosson, L.: Glucocosylation of thiocolchicine by a cell-suspension culture of Centella asiatica.-Phytochemistry 33: 817–820, 1993.

32.Snedecor, G.W., Cochran, W.G.: Statistical Methods. 8th Edition.-Iowa State Univ. Press, Ames 1989.

33.Subroto, A.M., Kwok, K.H., Hamill, J.D., Doran, P.M.: Co-culture of genetically transformed roots and shoots for synthesis, translocation and biotransformation of secondary metabolites.-Biotechnol. Bioeng. 49: 481–494, 1996.

34.Xu, T.F., Zhang, L., Sun, X.F., Zhang, H.M., Tang, K.X.: Production and analysis of organic acids in hairy-root cultures of Isatis indigotica Fort. (Indigo Woad).-Biotechnol. Appl. Biochem. 39: 123–128, 2004.