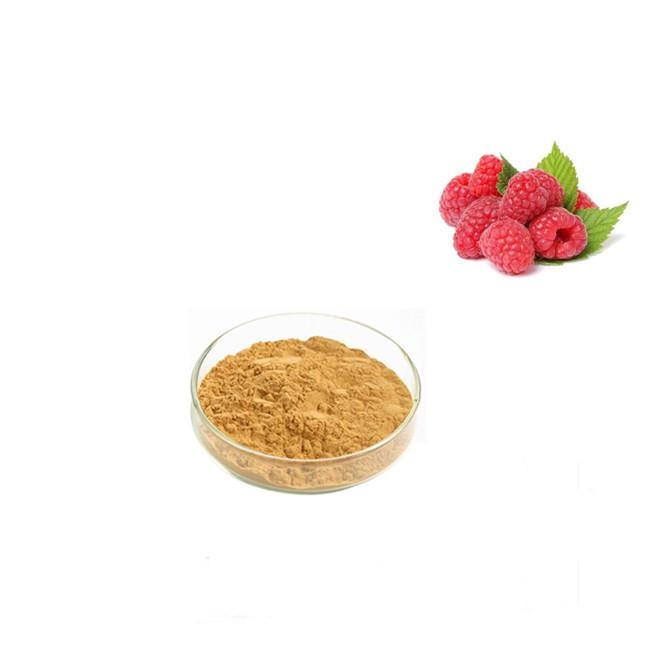 Raspberry extract

Raspberry Ketone
Product Name:Red Raspberry Extract
Appearance

:

White Crystal Powder
Molecular formula

:

C10H12O2
Specification

:30%,50%,

98%
About Raspberry extract
Raspberry powder contains Raspberry Ketone found in raspberries. It is a recent discovery from the raspberry that is already known for its many antioxidant properties, and Raspberry Ketone is proving to be a source of keen interest for many people in the fitness and weight loss world.
Raspberry extract Function:
1.The function of being used as antioxidants – One positive is that raspberries are packed with antioxidants, Rubi Fructus Extract, Raspberry Extract,Raspberry ketones which can help your body in many different ways;
2.The function of increasing energy – In addition to an immunity boost thanks to the antioxidants, you may also see an increase in energy that lasts all day long;
3.The function of burning fat – One of the key benefits of raspberry ketone powder can actually help burn fat faster;
4.The function of suppressing appetite – The other benefit to "ras-tones"are that they can work as an appetite suppressant so you do not eat as much.
5.Raspberry has the function of Weight loss
6.Raspberry can Control your body's cholesterol and blood pressure levels
7.Raspberry can Help relieve inflammation.
Raspberry extract Application:
1.Applied in the Pharmaceutical field;
2.Applied in the Functional food field;
3.Applied in the Health products field;
4.Applied in the Cosmetic field.
For more product information pls contact email sales09@staherb.cn
Product analysis
| | | |
| --- | --- | --- |
| Items | Standards | Results |
| Physical Analysis | | |
| Description | white crystal powder | Complies |
| Assay | Raspberry ketone glucoside 98%(HPLC) | 98.3% |
| Mesh Size | 100 % pass 80 mesh | Complies |
| Ash | ≤ 5.0% | 2.85% |
| Loss on Drying | ≤ 5.0% | 2.82% |
| Chemical Analysis | | |
| Heavy Metal | ≤ 10.0 mg/kg | Complies |
| Pb | ≤ 2.0 mg/kg | Complies |
| As | ≤ 1.0 mg/kg | Complies |
| Hg | ≤ 0.1 mg/kg | Complies |
| Microbiological Analysis | | |
| Residue of Pesticide | Negative | Negative |
| Total Plate Count | ≤ 1000cfu/g | Complies |
| Yeast&Mold | ≤ 100cfu/g | Complies |
| E.coil | Negative | Negative |
| Salmonella | Negative | Negative |
References:
1.

Ogawa, Y., Akamatsu, M., Hotta, Y., Hosoda, A., Tamura, H.: Effect of essential oils, such as raspberry ketone and its derivatives, on antiandrogenic activity based on in vitro reporter gene assay. Med. Chem. Lett. B 20, 2111–2114 (2010)

2.

Kosjek, B., Stampfer, W., Deursen, R.V., Faber, K., Kroutil, W.: Efficient production of raspberry ketone via 'green' biocatalytic oxidation. Tetrahedron 59, 9517–9521 (2003)

3.

Harada, N., Okajima, K., Narimatsu, N., Kurihara, H., Nakagata, N.: Effect of topical application of raspberry ketone on dermal production of insulin-like growth factor-I in mice and on hair growth and skin elasticity in humans. Growth Horm IGF Res. 18, 335–344 (2008)

4.

Larsen, M., Poll, L.: Odour thresholds of some important aroma compounds in raspberries. Z. Lebensm Unters Forsch. 191, 129–131 (1990)

5.

Bredsdorff, L., Wedebye, E.B., Nikolov, N.G., Hallas-Møller, T., Pilegaard, K.: Raspberry ketone in food supplements – High intake, few toxicity data – a cause for safety concern? Regul. Toxicol. Pharm. 73, 196–200 (2015)

6.

Hoelderich, W.F., Ritzerfeld, V.: Preparation of a raspberry ketone precursor in the presence of rare earth oxide catalysts. Appl. Catal. A: General 504, 654–663 (2015)

7.

Shimoda, K., Harada, T., Hamada, H., Nakajima, N., Hamada, H.: Biotransformation of raspberry ketone and zingerone by cultured cells of Phytolacca americana. Phytochemistry. 68, 487–492 (2007)

8.

Takiyama, H.: Supersaturation operation for quality control of crystalline particles in solution crystallization. Adv. Powder Technol. 23, 273–278 (2012)

9.

Parimaladevi, P., Srinivasan, K.: Influence of supersaturation level on the morphology of a-lactose monohydrate crystals. Int. Dairy J. 39, 301–311 (2014)

10.

Jiang, L.K., Wang, L.S., Du, C.J., Sun, G.Q., Qi, C.M.: Measurement and correlation of the solubilities of tetra(5,5-dimethyl-1,3-dioxaphosphorinanyl-2-oxy) neopentane in different pure solvents. Fluid Phase Equilib. 367, 117–124 (2014)

11.

Matsuda, H., Mori, K., Tomioka, M., Kariyasu, N., Fukami, T., Kurihara, K., Tochigi, K., Tomono, K.: Determination and prediction of solubilities of active pharmaceutical ingredients in selected organic solvents. Fluid Phase Equilib. 406, 116–123 (2015)

12.

Liu, Z.K., Yin, Q.X., Zhang, X.W., Zhang, H., Gong, J.B., Wang, J.K.: Measurement and correlation of the solubility of 4,4-oxydianiline in different organic solvents. Fluid Phase Equilib. 356, 38–45 (2013)

13.

Zhu, L., Wang, L.Y., Li, X.C., Sha, Z.L., Wang, Y.F., Yang, L.B.: Experimental determination and correlation of the solubility of 4-hydroxy-2,5-dimethyl-3(2H)-furanone (DMHF) in six different solvents. J. Chem. Thermodyn. 91, 369–377 (2015)

14.

Xiao, L.P., Wang, Y.L., Yang, J.X., Yuan, F.H., Jiang, C., Hou, B.H., Xie, C.: Determination and correlation of solubility of 4′-bromomethyl-2-cyanobiphenyl in acetone + (ethanol, n-propanol, n-butanol) mixtures. J. Chem. Thermodyn. 102, 199–210 (2016)

15.

Apelblat, A., Manzurola, E.: Solubilities of o-acetylsalicylic, 4-aminosalicylic, 3,5-dinitrosalicylic, and p-toluic acid, and magnesium-DL-aspartate in water from T = (278 to 348) K. J. Chem. Thermodyn. 31, 85–91 (1999)

16.

Kai, Y.M., Hu, Y.H., Liu, Y., Liang, M.M., Yang, W.G., Xi, Y.: The solubility of mercaptosuccinic acid in water + (methanol, ethanol, acetone) mixtures from (278.15 to 333.15 K). Fluid Phase Equilib. 361, 282–288 (2014)

17.

Wang, G., Wang, Y.L., Ma, Y.G., Hao, H.X., Luan, Q.H., Wang, H.H.: Determination and correlation of cefuroxime acid solubility in (acetonitrile + water) mixtures. J. Chem. Thermodyn. 77, 144–150 (2014)

18.

Sunsandee, N., Hronec, M., Štolcová, M., Leepipatpiboon, N., Pancharoen, U.: Thermodynamics of the solubility of 4-acetylbenzoic acid in different solvents from 303.15 to 473.15 K. J. Mol. Liq. 180, 252–259 (2013)

19.

Buchowski, H., Ksiazczak, A., Pietrzyk, S.: Solvent activity along a saturation line and solubility of hydrogen-bonding solids. J. Phys. Chem. 84, 975–979 (1980)

20.

Soltanpour, S., Gharagozlu, A.: Piroxicam Solubility in binary and ternary solvents of polyethylene glycols 200 or 400 with ethanol and water at 298.2 K: experimental data report and modeling. J. Solution Chem. 44, 1407–1423 (2015)

21.

Morimoto, C., Satoh, Y., Hara, M., Inoue, S., Tsujita, T., Okuda, H.: Anti-obese action of raspberry ketone. Life Sci. 77, 194–204 (2005)

22.

Koeduka, T., Watanabe, B., Suzuki, S., Hiratake, J., Mano, J., Yazaki, K.: Characterization of raspberry ketone/zingerone synthase, catalyzing the alpha, beta-hydrogenation of phenylbutenones in raspberry fruits. Biochem. Biophys. Res. Commun. 412, 104–108 (2011)

23.

Meng, Z.B., Hu, Y.H., Kai, Y.M., Yang, W.G., Cao, Z., Shen, F.: Thermodynamics of solubility of thiomalic acid in different organic solvents from 278.15 K to 333.15 K. Fluid Phase Equilib. 352, 1–6 (2013)

24.

Moodley, K., Rarey, J., Ramjugernath, D.: Experimental solubility for betulin and estrone in various solvents within the temperature range T = (293.2 to 328.2) K. J. Chem. Thermodyn. 98, 42–50 (2016)

25.

Ha, E.S., Kim, J.S., Kuk, D.H., Ha, D.H., Baek, I.H., Kim, M.S.: Determination and correlation of solubility of Pranlukast hemihydrate in five organic solvents at different temperatures and its dissolution properties. J. Mol. Liq. 225, 231–234 (2017)

26.

Pawar, R.R., Aher, C.S., Pagar, J.D., Nikam, S.L., Hasan, M.: Solubility, density and solution thermodynamics of NaI in different pure solvents and binary mixtures. J. Chem. Eng. Data 57, 3563–3572 (2012)

27.

Tao, M.Y., Sun, H., Wang, Z., Cui, P.L., Wang, J.K.: Correlation of solubility of pioglitazone hydrochloride in different binary solvents. Fluid Phase Equilib. 352, 14–21 (2013)