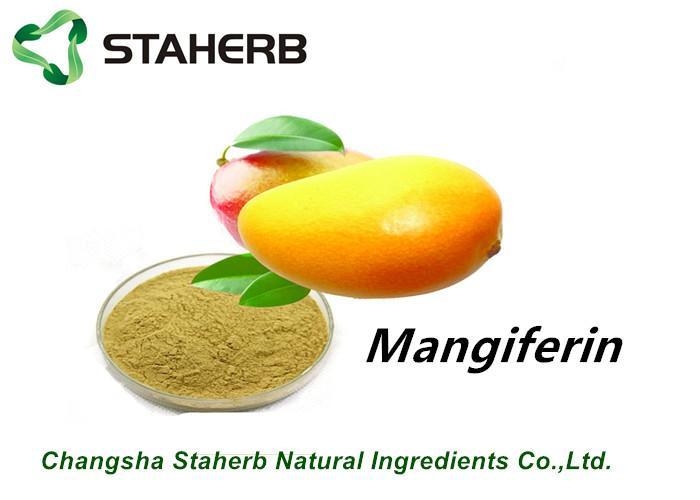 Mangiferin 98%
Product Name:Mangiferin
Botanical Source:Mangifera Indica
Active Ingredient:Mangiferin
Test Method :HPLC
Appearance :Light Yellow Powder
CAS NO:4773-96-0
Molecular Formula:C19H18O11
Molecular Weight:422.33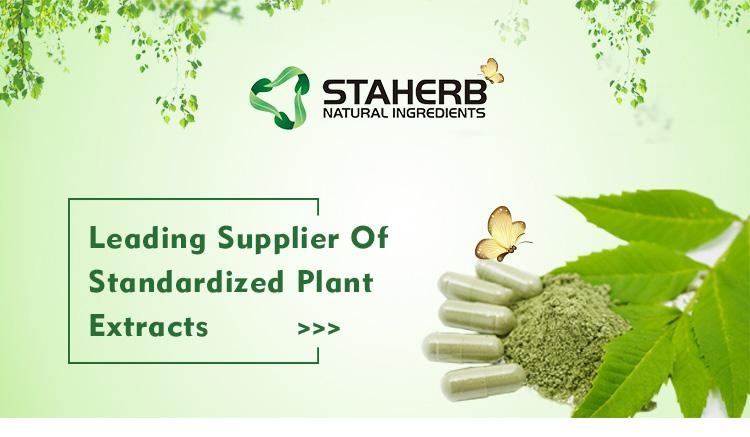 About Mangiferin
Mangiferin can be found in many plant species, among which the mango tree (Mangifera indica) is one of the primary sources. It is a plant natural polyphenol of C-glycosylxanthone structure and possesses various pharmacological activities such as: antioxidant, antimicrobial, anti-atherosclerotic, anti-allergenic, anti-inflammatory, analgesic, immunomodulatory, antidiabetic, anti-sclerotic, anti-microbial, anti-viral, MAO (monoamine oxidases - enzymes that catalyze the oxidation of monoamines) inhibiting, memory improving, and cardio, heptato, and neuroprotective. Mangiferin is also radioprotective against X-ray, gamma, and UV radiation, which is why it is also used in cosmetics for antioxidant and UV-protecting properties.
Mangiferin Function:
1. Mangiferin can treat inflammatory bowel disease;
2. Mangiferin can clear away heat and toxic material, dispeling heat from blood to stop bleeding
3. Mangiferin can lower blood sugar and cholesterin content, lose weight
4. Mangiferin has the function of anti-bacterial, anti-epithyte, calming, and curing sugar diabets.
Mangiferin Application:
1.Flavors in seasoning packets for banana puree powder keep the original flavors
2.Colors in ice cream, cakes for beautiful pink color of banana puree powder
3.Also can be applied in drink mix, infant food, dairy product, bakery, candy and others Product advantages.
For more product information pls contact email sales09@staherb.cn
Analysis data
| | |
| --- | --- |
| Name | African Mango Extract |
| Botanical Source | Mangifera indica L. |
| Maker Compounds | 90% Mangiferin |
| Color | Light yellow powder |
| Appearance | Crystaline Powder |
| Test Method | HPLC |
| Used Part | Fruit |
| Extract solvent | Ethanol & Water |
| Drying Method | Spray Dying |
| Loss on Drying | ≤ 5.0% |
| Bulk Density | 40-60g/100ml |
| Arsenic | ≤2ppm |
| Lead | ≤2ppm |
| Total Plate Count | ≤1000cfu/g |
| Total Yeast & Mold | ≤100cfu/g |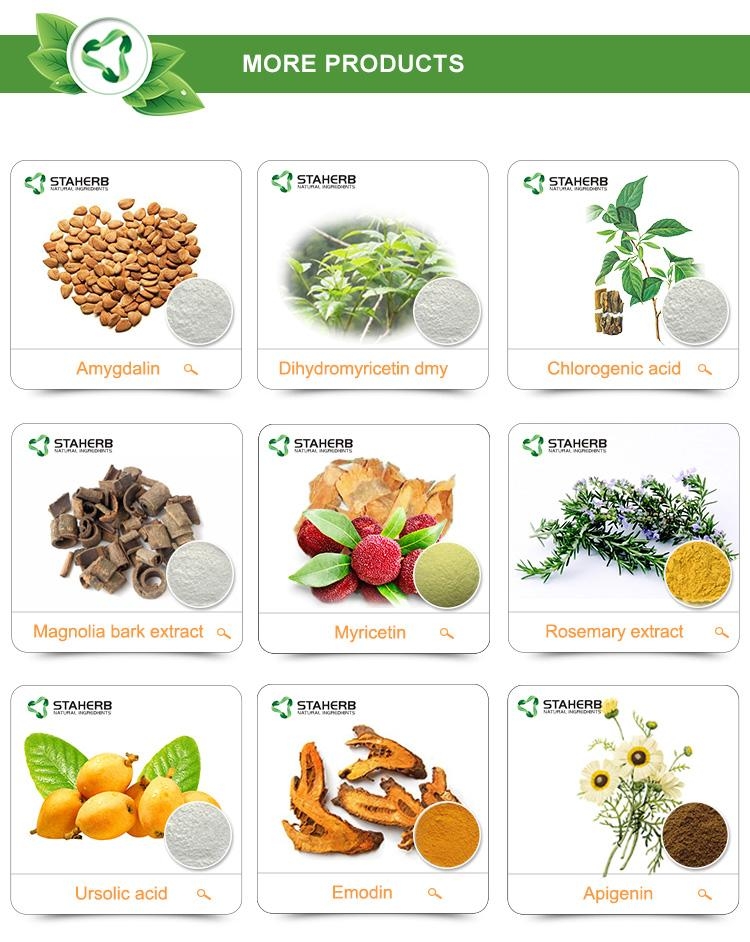 References:
(1)

Chaudhuri, R. K., Ghosal, S. (1971) Phytochemistry 10, 2425–2432.

(2)

Ghosal, S., Sharma, P. V., Chaudhuri, R. K., Bhattacharya, S. K. (1973) J. Pharm. Sci. 62, 926–930.

(3)

Ghosal, S., Biswas, K., Chattopadhyay, B. K. (1978) Phytochemistry 17, 689–694.

(4)

Ghosal, S., Srivastava, A. K., Srivastava, R. S., Chattopadhyay, S., Maitra, M. (1981) Planta Med. 42, 279–283.

(5)

Shukla, S. P. (Ghosal, S., Supervisor) (1981) M. Pharm. thesis, pp. 22–43, Banaras Hindu University, Varanasi.

(6)

Chattopadhyay, S., Chattopadhyay, U., Mathur, P. P., Saini, K. S., Ghosal, S. (1983) Planta Med. 49, 252–254.

(7)

Bhattacharya, S. K., Ghosal, S., Chaudhuri, R. K., Sanyal, A. K. (1972) J. Pharm. Sci. 61, 1838–1840.

(8)

Bhattacharya, S. K., Sanyal, A. K., Ghosal, S. (1972) Naturwissenschaften 59, 651.

(9)

Bhattacharya, S. K., Sanyal, A. K., Ghosal, S. (1976) in Drugs and Central Synaptic Transmission (Bradley, P. B., Dhawan, B. N., eds.) pp. 333–340, Macmillan, London.

(10)

Farnsworth, N. R., Bingel, A. S., Cordell, G. A., Crane, F. A., Fong, H. H. S. (1975) J. Pharm. Sci. 64, 535–598.

(11)

Lowry, O. H., Rosenbrough, N. J., Farr, A. L., Randall, R. J. (1951) J. Biol. Chem. 193, 265–282.

(12) Lembeck, F., Sewing, K.-Fr. (1966) in Pharmacological Facts and Figures, pp. 104–109, The English University Press, London.

(13)

Hurley, L. S., Keen, C. L., Lonnerdal, B. (1980) in Excerpta Medica, pp. 227–272, Ciba Foundation Symposium 79, New York.

(14)

Ghosal, S., Chakrabarti, D. K., Biswas, K., Kumar, Y. (1979) Experientia 35, 1633–1634.

(15)

Evans, G. W., Johnson, P. E. (1978) Arbeit. f. Tier. Freising-Weihenstephan 3, 98–99.

(16)

Ghosal, S., Dutta, S. K. (1968) Indian J. Chem. 6, 301–306.

(17)

Ghosal, S. (1976) in Recent Advances in the Chemistry and Pharmacology of Indian Plant Drugs, pp. 1–21, Andhra University Press, Waltair, India