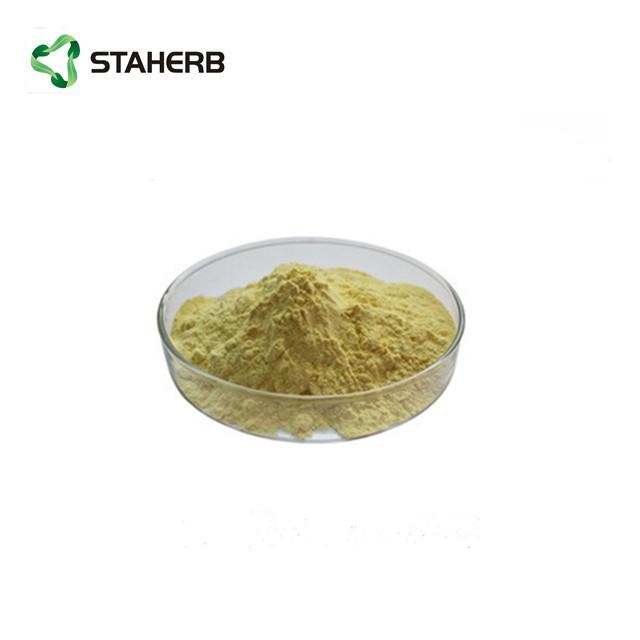 Diosmin
Item name: diosmin
CAS NO: 520-27-4
Purity:90%
Appearance:light yellow powder
Test method:HPLC
Molecular Formula C28H32O15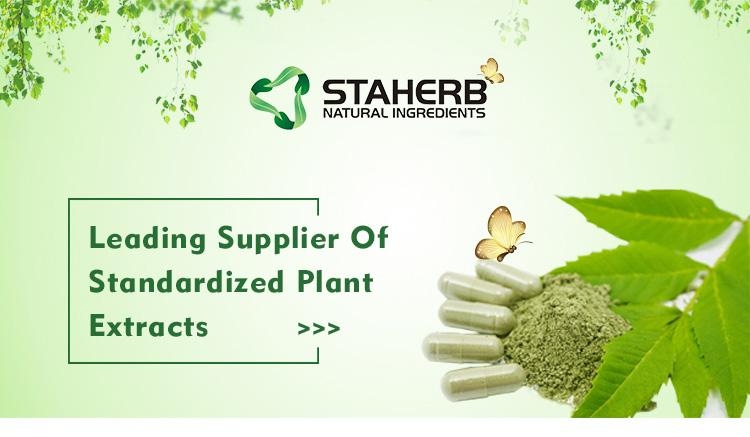 About Diosmin
Diosmin is a naturally occurring flavonoid glycoside that can be isolated from various plant sources or derived from the flavonoid hesperidin. Diosmin is considered to be a vascular-protecting agent used to treat chronic venous insufficiency, hemorrhoids, lymphedema, and varicose veins. As a flavonoid, diosmin also exhibits anti-inflammatory, free-radical scavenging, and antimutagenic properties.
Diosmin differs molecularly from hesperidin by the presence of a double bond between two carbon atoms in diosmin's central carbon ring. Diosmin can be manufactured by extracting hesperidin from citrus rinds, followed by conversion of hesperidin to diosmin. Diosmin has been used for more than 30 years as a phlebotonic and vascular-protecting agent, and has recently begun to be investigated for other therapeutic purposes, including cancer, premenstrual syndrome, colitis, and diabetes.
Function of Diosmin

1.Diosmin has antioxidant, antiinflammatory, hypolipidemic, vasoprotective and anticarcinogenic and cholesterol lowering actions

2.Diosmin can inhibit following enzymes: Phospholipase A2, lipoxygenase, HMG-CoA reductase and cyclo-oxygenase.

3.Diosmin can improve the health of capillaries by reducing the capillary permeabilit

4.Diosmin can be used to reduce hay fever and other allergic conditions by inhibiting the release of histamine from mast cells.

5.Diosmin can excite the heart and shrink the blood vessel, and then causes the hypertension.
Application of Diosmin

1. Applied in food field, it is used as a flavor enhancer and sweetener in a wide variety of alcoholicbeverage, dessert foods and savory foods.

2. Applied in cosmetics, it can added into toothpaste and mouth wash.

3. Applied in pharmaceutical field, it is mainly used to reducing the bitterness of in form.
For more product information pls kindly contact email sales09@staherb.cn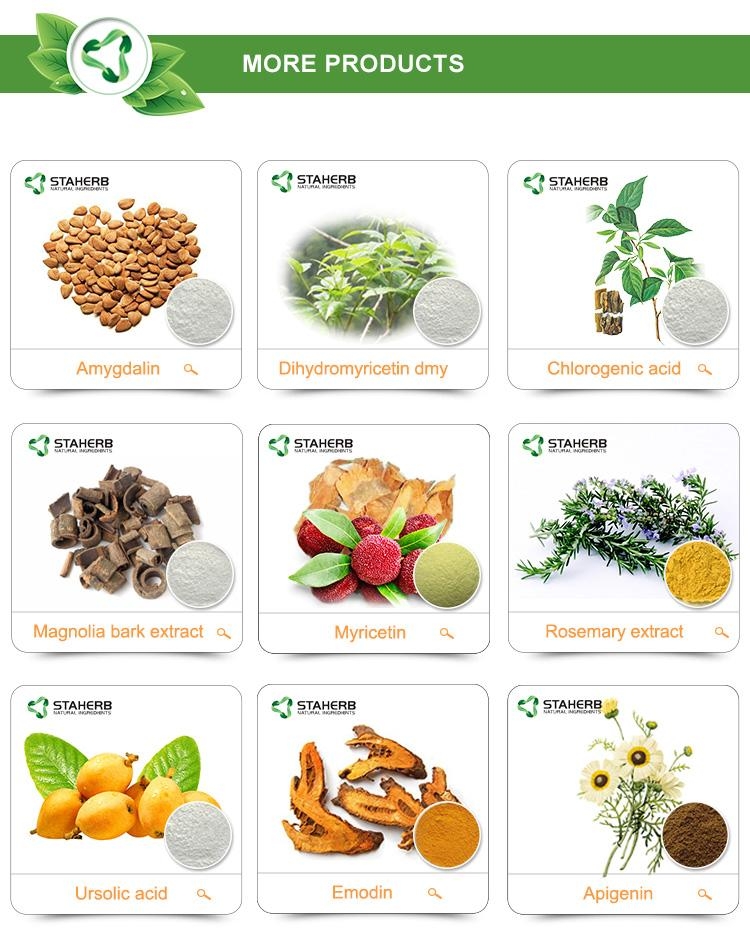 References:
1.

W. Henning

, Z. Lebensm. Unters. Forsch.

173

(1981) 180–187.

2.

K. Kanes, B. Tisserat, M. Berhow, C. Vandercook

, Phytochemistry

32

(1993), 967–974.

3.

S. Mizrahi, Z. Berk

, J. Sci. Food Agric.

21

(1970) 250–253.

4.

B. Berkarda, H. Koyuncu, G. Soybir, F. Baykut

, Res. Exp. Med. (Berl).

198

(1998) 93–99.

5.

E.M. Galati, A. Trovato, S. Kirjavainen, A. Forestieri, A. Trovato, M.M. Tripodo

, Farmaco

40

(1994), 709–712.

6.

H. Koyuncu, X. Berkarda, F. Baykut, G. Soybir, C. Alatli, H. Gul, M. Altun

, Anticancer Res.

19

(1999) 3237–3242.

7.

M.T. Monforte, A. Trovato, S. Kirjavainen, A.M. Forestieri, E.M. Galati

, Farmaco

50

(1995) 595–599.

8.

E. Tripoli, M. Guardia, S. Giammanco, D. Majo, M. Giammanco

, Food Chem.

104

(2007) 466–479.

9.

D. Bergqvist, T. Hallbrook, B. Lindblad, A. Lindhagen

, Vasa

10

(1981) 253–260.

10.

P. Damon, O. Flandre, F. Michel, L. Perdrix, C. Labrid, A. Crastes de Paulet

, Arzneimittelforschung

37

(1987) 1149–1153.

11.

J.A. Da Silva Emim, A.B. Oliveira, A.J. Lapa

, J. Pharm. Pharmacol.

46

(1994) 118–122.

12.

M. Gabor

, in:

V. Cody, E. Middleton Jr, J.B. Harborne, A. Beretz

(eds) Plant Flavonoids in Biology and Medicine II: Biochemical, Cellular and Medicinal Properties, Alan R Liss, Inc., New York, 1988, pp. 1–15.

13.

J.A. Del Rioa, M.D. Fustera, P. Gomeza, I. Porrasb, A. Garcia- Lidonb, A. Ortunoa

, Food Chem.

84

(2004) 457–461.

14.

F.A. El-Yazbi, M. El-Swify, Y. Hawam

, Bull. Fac. Pharm. Cairo Univ.

37

(1999) 19–24.

15.

C.W. Chang, S.L. Hsiu, P.P. Wu, S.C. Kuo, P.D.L. Chao

, J. Food Drug Anal.

5

(1997) 111–120.

[16]

A. Marston, K. Hostettmann, in: (eds) Flavonoids: Chemistry, Biochemistry and Applications, CRC Press, Taylor & Francis Group, Boca Raton, 2006, p. 1–36.

17.

D. Cova, L. De Angelis, F. Giavarini, G. Palladini, R. Perego

, Int. J. Clin. Pharm. Therap. Toxicol.

30

(1992) 29–33.

18.

A. El Bayoumi

, Anal. Lett.

32

(1999) 383–400.

19.

A.D. Kaur, V. Ravichandran, P.K. Jain, R.K. Agrawal

, J. Pharm. Biomed. Anal.

46

(2008) 391–394.

20.

S.A. Coran, G. Bartolucci, M. Bambagiotti-Alberti

, J. Pharm. Biomed. Anal.

54

(2011) 422–425.

21.

K. Shanker, S. Gupta, P. Srivastava, S.K. Srivastava, S.C. Singh, M.M. Gupta

, J. Pharm. Biomed. Anal.

54

(2011) 497–502.

22.

V. Srivastava, M. Singh, R. Malasoni, K. Shanker, R.K. Verma, M.M. Gupta, A.K. Gupta, S.P.S. Khanuja

, J. Sep. Sci.

31

(2008) 47–55.

23.

A.K. Yadav, N. Tiwari, P. Srivastava, S.C. Singh, K. Shanker, R.K. Verma

, J. Pharm. Biomed. Anal.

47

(2008) 841–846.

24.

F.I. Kanaze, C. Gabrieli, E. Kokkalou, M. Georgarakis, I. Niopas

, J. Pharm. Biomed. Anal.

33

(2003) 243–249.

25.

ICH, Text on Validation of Analytical Procedures — ICH Harmonised Tripartite Guideline, Geneva, 1994.

26.

ICH, Validation of Analytical Procedures: Methodology — ICH Harmonised Tripartite Guideline, Geneva, 1996.

27.

M.R. Lauro, M.L. Torre, L. Maggi, F. De Simone, U. Conte, R.P. Aquino

, Pharm. Sci.

11

(2001) 265–269.