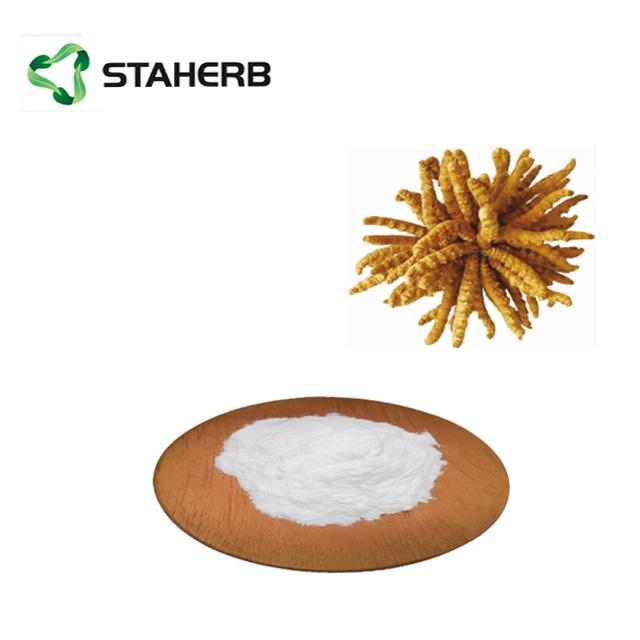 cordycepin Powder
Products Name:Cordycepin
CAS No.: 73-03-0
Molecular Formula: C10H13N5O3
Molecular Weight: 251.24
Purity:≥1%-98%
Identification method:Mass, NMR
Analysis method:HPLC-DAD or/and HPLC-ELSD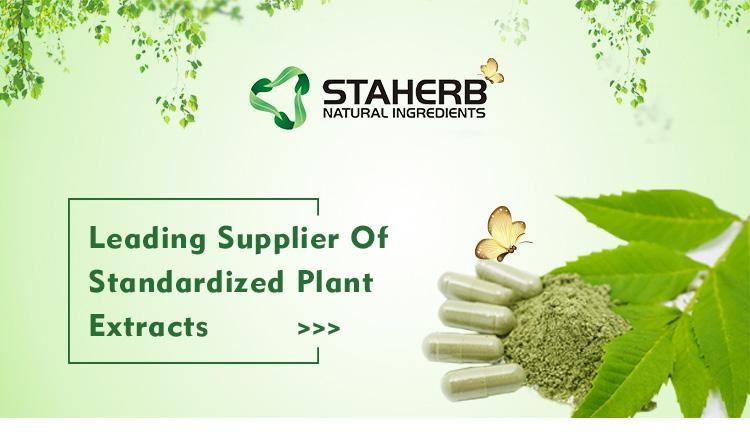 About Cordycepin powder
Cordycepin (cordycepin) is also called the Chinese caterpillar fungus, cordyceps sinensis, cordyceps militaris, cordyceps sinensis and cordyceps militaris (especially nucleoside class) in the main active ingredient, and the first isolated from the fungus nucleoside antibiotic. Cordycepin a natural source of drugs, have medicine of traditional Chinese medicine cordyceps sinensis, Yin and Yang are the same with filling and two way regulation of human body balance
function; It in terms of protecting liver, kidney, runfei better because the ingredients is pure, and greatly tonifying qi
and blood, can eliminate now incurable pain, migraine, hyperplasia of cervical vertebra disease. From the standpoint of medicine with western medicine, cordycepin has the anti-tumor, anti-aging, antibacterial, antiviral, immunity,
improve metabolism, scavenging free radicals and other pharmacological effects, has a good prospect of
clinical application. Cordycepin is now become in the study of pharmaceutical chemistry, anti-aging, beauty,
health care products in the field of a very active field.
Cordycepin Application:
1.Applied in cosmetic field,cordyceps extract powder is used to reduce chloasma, age pigment and whelk;
2.Applied in food field,cordyceps extract powder is used as food additives added into many kinds of product;
3.Applied in pharmaceutical field,cordyceps extract powder used as the basic drugs to treat cerebrovascular disease.
Cordycepin Function:
1.Enhancing and strengthening of the immune system.
2.Increasing libido by stimulating the production of sex hormones.
3.Building muscles and improving physical performance.
4.Providing anti-aging and fatigue reducing effects.
5.Improving the respiratory function.
6.Enhancing cellular oxygen uptake.
7.Benefiting the vascular system.
8.Protecting liver and kidneys.
For more product information pls kindly contact email sales09@staherb.cn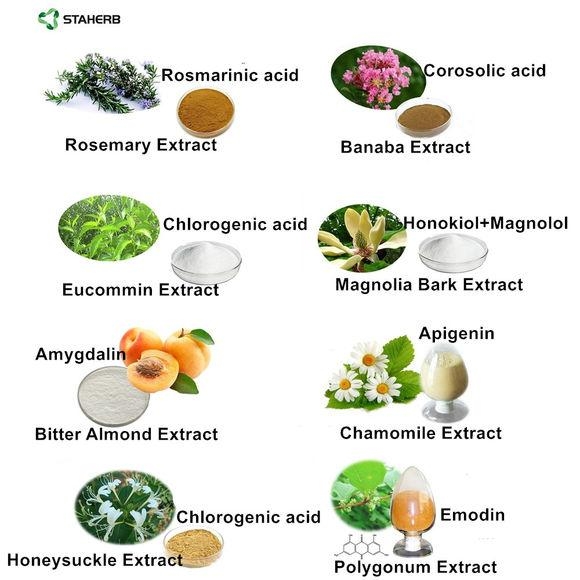 References:
1.

Cui, J. D. (2015) Biotechnological production and applications of Cordyceps militaris, a valued traditional Chinese medicine. Critical Rev. Biotechnol. 35: 475–484.

2.

Fung, J., G. Yue, K. P. Fung, X. Ma, X. Q. Yao, and W. H. Ko (2011) Cordyceps militaris extract stimulates Cl(-) secretion across human bronchial epithelia by both Ca(2+)(-) and cAMPdependent pathways. J. Ethnopharmacol. 138: 201–211

3.

Tuli, H., S. Sandhu, and A. Sharma (2013) Pharmacological and therapeutic potential of Cordyceps with special reference to cordycepin. 3 Biotech. 4: 1–12.

4.

Ueda, Y., K. Mori, S. Satoh, H. Dansako, M. Ikeda, and N. Kato (2014) Anti-HCV activity of the Chinese medicinal fungus Cordyceps militaris. Biochem. Biophys. Res. Commun. 447: 341–345.

5.

Wasser, S. (2014) Medicinal mushroom science: Current perspective, advances, evidences and challenges. Biomed. J. 37: 345–356.

6.

Lennon, M. B. and R. J. Suhadolnik (1976) Biosynthesis of 3'-deoxyadenosine by Cordyceps militaris. Mechanism of reduction. Biochim. Biophysic. Acta 425: 532–536.

7.

Xiang, L., Y. Li, Y. Zhu, H. Luo, C. Li, X. Xu, C. Sun, J. Song, L. Shi, L. He, W. Sun, and S. Chen (2014) Transcriptome analysis of the Ophiocordyceps sinensis fruiting body reveals putative genes involved in fruiting body development and cordycepin biosynthesis. Genom. 103: 154–159

8.

Yin, Y., G. Yu, Y. Chen, S. Jiang, M. Wang, Y. Jin, X. Lan, Y. Liang, and H. Sun (2012) Genome-wide transcriptome and proteome analysis on different developmental stages of Cordyceps militaris. PLoS One 7: 51853.

9.

Zheng, P., Y. Xia, G. Xiao, C. Xiong, X. Hu, S. Zhang, H. Zheng, Y. Huang, Y. Zhou, S. Wang, G. P. Zhao, X. Liu, R. J. St. Leger, and C. Wang (2011) Genome sequence of the insect pathogenic fungus Cordyceps militaris, a valued traditional Chinese medicine. Genome Biol. 12: R116.

10.

Ni, H., X.H. Zhou, H. H. Li, and W. F. Huang (2009) Column chromatographic extraction and preparation of cordycepin from Cordyceps militaris waster medium. J. Chromatogr. B 877: 2135–2141.

11.

Rottman, F., M. L. Ibershof, and A. J. Guarino (1963) Studies on the synthesis and structure of cordycepin monophosphate. Biochim. Biophysic. Acta 76: 181–187.

12.

Wang, H., M. Pan, C. Chang, S. Chang, and W. Hseih (2014) Optimization of ultrasonic-assisted extraction of cordycepin from Cordyceps militaris using orthogonal experimental design. Molecules 199: 20808–20820.

13.

Zhou, X., Z. Gong, Y. Su, J. Lin, and K. Tang (2009) Cordyceps fungi: Natural products pharmacological functions and developmental products. J. Pharm. Pharmacol. 61: 279–291.

14.

Das, S. K., M. Masuda, M. Hatashita, A. Sakurai, and M. Sakakibara (2010) Optimization of culture medium for cordycepin production using Cordyceps militaris mutant obtained by ion beam irradiation. Proc. Biochem. 45: 129–132.

15.

Masuda, M., E. Urabe, H. Honda, A. Sakurai, and M. Sakakibara (2007) Enhanced production of cordycepin by surface culture using the medicinal mushroom Cordyceps militaris. Enz. Microb. Technol. 40: 1199–1205.

16.

Das, S. K., M. Masuda, M. Hatashita, A. Sakurai, and M. Sakakibara (2008) A new approach for improving cordycepin productivity in surface liquid culture of Cordyceps militaris using high energy ion beam irradiation. Lett. Appl Microbiol. 47: 534–538.

17.

Tang, Y. J. and J. J. Zhong (2003) Scale-up of a liquid surface culture process for hyperproduction of ganoderic acid by the medicinal mushroom Ganoderma lucidum. Biotechnol. Prog. 19: 1842–1846.

18.

Kang, C., T. C. Wen, J. C. Kang, Z. B. Meng, G. R. Li, and K. D. Hyde (2014) Optimization of large-scale culture conditions for the production of cordycepin with Cordyceps militaris by liquid surface culture. The Scientific World J. 2014: 510627.

19.

Mao, X. B. and J. J. Zhong (2004) Hyperproduction of cordycepin by two-stage dissolved oxygen control in submerged cultivation of medicinal mushroom Cordyceps militaris in bioreactors. Biotechnol. Prog. 20: 1408–1413.

20.

Dong, J. Z., M. R. Lui, C. Lei, X. J. Zheng, and Y. Wang (2012) Effects of selenium and light wavelengths on liquid culture of Cordyceps militaris link. Appl. Biochem. Biotechnol. 166: 2030–2036.

21.

López, F. N., M. C. Quintana, and A. G. Fernández (2006) The use of a D-optimal design to model the effects of temperature, NaCl, type and acid concentration on Lactobacillus pentosus IGLAC01. J. Appl. Microbiol. 101: 913–926.

22.

Piccolomini, A. A., A. Fiabon, M. Borrotti, and D. De Lucrezia (2016) Optimization of thermophilic trans-isoprenyl diphosphate synthase expression in Escherichia coli by response surface methodology. Biotechnol. Appl. Biochem. DOI: 10.1002/bab.1459

23.

Srikanth, R., G. Siddartha, C. H. Sundhar Reddy, B. S. Harish, R. M. Janaki, and K. B. Ramaiah (2015) Antioxidant and antiinflammatory levan produced from Acetobactor xylinum NCIM2526 and its statistical optimization. Carbohyd. Polym. 123: 8–16.

24.

Zhou, Q., J. Su, H. Jiang, X. Huang, and Y. Xu (2010) Optimization of phenazine-1-carboxylic acid production by a gacA/ qscR-inactivated Pseudomonas sp. M18GQ harboring pME6032Phz using response surface methodology. Appl. Microbiol. Biotechnol. 86: 1761–1773.

25.

Zheng, Z. L., X. H. Qiu, and R. C. Han (2015) Identification of the genes involved in the fruiting body production and cordycepin formation of Cordyceps militaris fungus. Mycobiol. 43: 37–42.

26.

Das, S. K., M. Masuda, A. Sakurai, and M. Sakakibara (2009) Effects of additives on Cordycepin production using a Cordyceps militaris mutant induced by ion beam irradiation. Afr. J. Biotechnol. 8: 3041–3047.

27.

Mao, X. B., T. Eksriwong, S. Chauvatcharin, and J. J. Zhong (2005) Optimization of carbon source and carbon/nitrogen ratio for cordycepin production by submerged cultivation of medicinal mushroom Cordyceps militaris. Proc. Biochem. 40: 1667–1672.

28.

Mao, X. B. and J. J. Zhong (2006) Significant effect of NH4 + on cordycepin production by submerged cultivation of medicinal mushroom Cordyceps militaris. Enz. Microb. Technol. 38: 343–350.

29.

Shih, I. L., K. L. Tsai, and C. Hsieh (2007) Effects of culture conditions on the mycelial growth and bioactive metabolite production in submerged culture of Cordyceps militaris. Biochem. Eng. J. 33: 193–201.

30.

Masuda, M., E. Urabe, A. Sakurai, and M. Sakakibara (2006) Production of cordycepin by surface culture using the medicinal mushroom Cordyceps militaris. Enz. Microb. Technol. 40: 1199–1205.

31.

Masuda, M., S. K. Das, S. Fujihara, M. Hatashita, and A. Sakurai (2014) Efficient production of cordycepin by the Cordyceps militaris mutant G81-3 for practical use. Proc. Biochem. 49: 181–187